Under the Bridge


Photo Page
"Under the Bridge"

Under the bridge, I can pretend I'm living in a castle,
Under the bridge, just my baby and me.
I can pretend that I'm a king, and this is my kingdom...
Under the bridge, making believe.
- Merle Haggard
Petersburgh's Main Street Bridge over the Little Hoosic River was a silent witness to the lives of Petersburghers and Frank and Myrtle Church's extended family for some seventy-odd years until its recent replacement. Even then, after decades of weathering, along with the high water of spring snow melt and the occasional flood, the tough old girl with her cracked, spalling and patched concrete didn't easily yield to the wrecker's ball. The simple reinforced concrete arch, anchored at each end into the glacial bedrock, was a picturesque landmark that seemed a natural extension of the surrounding landscape of the steep hill above and the ancient water-scoured rock in the falls below.
The spindled cement railing along both sides of the bridge was the perfect backdrop for leaning on while engaged in an unhurried conversation between neighbors, and just the right height for sitting and watching the river on a warm summer's day...or for the adventurous, jumping into the damned-up pool on the other side!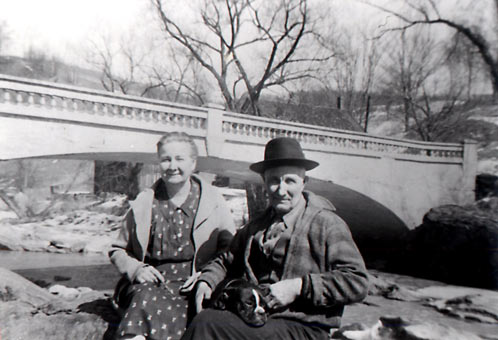 Thanx to Kathy McCumber Armstrong & John Armstrong for this bridge photo
Frank and Myrtle with the bulldog "Printer" (one of the several pups bearing the name of "Printer") enjoying an afternoon on the rocks next to their house with the bridge in the background.



Visiting Grandfather and Grandmother



Above: Dayfoot Brook flowing into the Little Hoosic.
(Photos by DJB)



Don't try wading across the stream's rocky bottom without sneakers!
Tubing down the rapids...

...under the bridge to the calm waters of the pool on the other side.

Looking back toward the falls

Uncle Jay's garden sloping to the river

Another summer afternoon by the bridge

The new bridge in 2003 (photos courtesy of Pam Eggsware)
E-mail your favorite "bridge" photos to vanatalan@yahoo.com for inclusion on this page!
Church Home || Genealogy || Frank & Myrtle's Page || Frank & Myrtle's Family || 1934 Church Reunion || 1913 Petersburg School Class || Archives and Vintage Photo Gallery || Poetry Page || West Grafton School || Church History in Petersburgh || 50th Wedding Anniversaries || Visiting Frank & Myrtle
"The Church Family of Petersburgh, NY featuring descendants of Frank and Myrtle Church" website
at http://churchtree.tripod.com
©2002 by Daniel J. Bornt, e-mail to: vanatalan@yahoo.com