History of the Church Family of Petersburgh, NY
Welcome to the Church Family of Petersburgh, NY website at
http://churchtree.tripod.com

DESCENDANTS OF JOHN AND HANNAH CHURCH
by Carlton M. Church
Ed. Note: Mr. Carlton Church's exhaustive and extensive research into LDS and old state and county records has produced the most definitive history of the Church family of Petersburgh, NY to date.

The children of John and Hannah Church are recorded in the Stonington, CT vital records, Vol. 3, Page 84. These children are John, born 27 Mar (/); Nath(aniel), born 28 Oct 1759; Hannah, born 5 Jun 1763; and Elizabeth, born 31 Aug 1765. The origins of Hannah are not documented.
In all probability John was the son of David Church and Susannah Bennett who were married in Groton, CT, on 16 Mar 1726 as recorded in the VR of Groton Vi, P 139, and whose children were recorded as Eunice, b 8 Aug 1729 and John, b 15 May 1731. No further children are recorded in Groton for David and Susannah, but in Vol. 3, Page 17 of the vital records of Stonington, CT, David Church (no wife named) is recorded as having children as follows:

Anna, b 14 Apr 1733
David, b 21 Oct 1738
Nathaniel, b Jan 1740/41
Joseph, b 28 Aug 1744
Prudence, b 17 Aug 1746
Jonathan, b 9 May 1752

It seems that David and Susannah moved from Groton to Stonington about 1732 and that these records are for one family. In an article in "The New England Historical and Genealogical Register", Vol. 123 (1969) titled "Garrett Church of Watertown, Mass." by Robert M. and Helen C. Search, it is shown that Samuel Church, son of Garrett, married as his second wife Elizabeth Davis and had a son Jonathan born in Groton, MA. 12 Feb 1686. The article also makes the case that Samuel and Elizabeth had another son named David whom they presumed to be the David Church who purchased land in Stonington in 1734 and whose daughter Anna was baptized in the First Church of Stonington in 1734. The article does not mention the other records cited above, but the pieces fit together both chronologically and geographically.
It is unusual that neither John the father or either of his two sons can be shown to have served in the Revolutionary War. None of them made application for a pension nor did any surviving spouse apply. There are several by the name of John and Nathaniel Church who served in the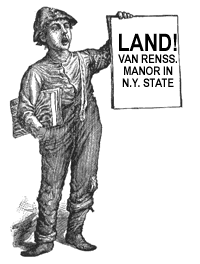 various units in Connecticut and Rhode Island, and also for that matter in the units of Vermont and New York. It is not beyond the realm of possibility that some of these might be our subjects, but at this time no proof exists to my knowledge. In many cases service in the Revolution is a matter of great pride and this is passed down to future generations as a matter of family tradition. No such tradition is evident here.
From Stonington, the family moved to what was then Stephentown in Albany County, NY, and is now Petersburgh in Rensselaer County. Nathaniel Bartlett Sylvester, in his "History of Rensselaer County, New York" wrote "still earlier than many of these was the settlement of the Church families. There were four of that name who came in about 1780 - John, Nathaniel, Hannah and Elizabeth. The homestead of one or more of them was the farm where in later years Peter Church lived."
The Stewart family of Stonington came to the Petersburgh area at the same time. Tradition has it that the Church and Stewart families were closely associated, and indeed there were several marriages between members of the families over several generations. The Stewart family Genealogy notes that Eliphalet Stewart left Stonington with John and Hannah Church and their four children, John, Nathaniel, Hannah, and Elizabeth. The Stewart tradition also alleges that these early Church and Stewart families were "cousins."
The exact date when the Church family came to New York is not known, but 1780 seems to be a good estimate. We know that several other families such as the Gates and Hakes families came at about the same time. The area was of very rugged topography and was practically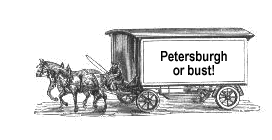 unsettled until after the Revolution. One of the attractions for settlers was that the land was in the Van Rensselaer Manor and title to the land was held by the Patroon, Stephen Van Rensselaer. Land could be rented for a fairly reasonable fee, and usually the rent was waived for a period of time, sometimes as long as twelve years, to encourage settlers. The Manor kept very good records including land surveys, leases, rent books, etc. Unfortunately a fire in the State Capitol in Albany destroyed a substantial part of these records. The records that survive are in the Manuscript and Special Collection section of the State Archives in Albany.
The earliest record of the Church family in the area is found in the Minutes of the meeting of the Town of Stephentown dated 2 May 1786 where Nathaniel Church is registered as voting for district officers. It is interesting that no John or Nathaniel Church is found in the 1790 census, but there is a Jonathan Church listed. He is found to have leased a parcel of land from the Manor on 28 Sep 1787 and subsequently transferred the lease to Capt. Isaac Gates in 1792. He is in all probability the Jonathan Church who married Amy Gates in Preston, CT.
The first record of John Church is found in the Van Rensselaer Manor Papers, box 4, folder 3, Grafton Survey. The record shows that John leased 95 acres on 2 Apr 1793. The land is described as "a good deal uneven and in general very stony, it has a ledge of rocks in it of about 5 acres that is wholly useless." The land leased was bounded by leases of Thomas Babcock, Hazard Moon, and Isaac Johnson.
There is some question in my mind as to the location of this land leased by John Church. The Town of Petersburgh was set off from Stephentown in 1791 and Grafton was set off from Petersburgh in 1807. Obviously the land when leased was in Petersburgh, and since the information was included in the Grafton file it is obvious that the person filing it thought that it was in the area set off as Grafton. There is some evidence that the land might have actually been in the Town of Petersburgh in the area known as Church Hollow. There is a survey in Box 6, Folder 5 of the Van Rensselaer Manor papers, Petersburgh Survey, which describes lands leased to Nathaniel and Peter Church on 5 Jan 1812. The metes and bounds description of this lease refers to "a stake in the southwest corner of the farm leased to John Church."
The Nathaniel Church mentioned is obviously the son of John and Hannah born in Stonington, CT. 28 Oct 1759. The John Church could be either the father or the brother of Nathaniel, although my feeling is that he was the father. The 1800 census lists only one John Church in Petersburgh as the head of a family. That family is recorded as one male over 45 and one female over 45. The son John could have been 45 or older, but the lack of any children in the family makes me believe that this was the older John Church.
Nathaniel Church is the ancestor of most if not all of the Church families who lived in the Petersburgh area in the nineteenth and twentieth centuries. Tradition has it that Nathaniel's wife was named Eunice and that their children were Peter (born 1786), John (born 1791), George, and Elizabeth. I have found two leases from the Manor to Nathaniel and Peter Church dated 5 Jun 1812. One of these is the lease previously mentioned which abutted the farm of John Church. The 1810 census lists Peter Church as the head of a family, and the only other Church listed is Nathaniel who now shows two males over 45 and two females over 45. This might suggest that Nathaniel had taken his parents into his home. Sometime between 1810 and 1820 the number of persons over 45 in Nathaniel's family decreased to one male and no females. It would appear that Nathaniel's father, mother and wife may have died in that period of time. An entry in Lemuel Church's Bible states that John Church died March 21, 1817.
On 10 Jan 1823 Nathaniel had his will prepared. He died sometime between that date and the time later the same year when the assessment roll for the town of Grafton listed "Freelove Church, widow." Nathaniel's will clearly names his wife Freelove, his sons Peter, John, John George, and Datius, (ed. note: Darius?) and his daughter Elizabeth Moon. The will is unusual in that it gives Peter, John and Elizabeth the sum of five dollars each, to be paid eleven years from the date of the will. Everything else, including the farm that was in the Manor of Stephen Van Rensselaer, was left to his wife Freelove and to his sons John George and Datius.
The son Datius is referred to as "insigne" throughout the will. I can find no clear meaning for this term other that "significant one." It appears that Datius was a minor and that the eleven years was to allow him to reach adulthood. The will was submitted for probate in the Rensselaer County Surrogate Court, Vol.18, page 3, on 1 May 1834. An affidavit submitted at that time indicated that Elizabeth Moon lived in the State of Ohio.
Although Freelove and Datius were apparently residents of Grafton until the will was probated in 1834, there is no record of what happened to them. The 1830 census lists Peter as a resident of Petersburgh and John and George were both residents of Pownal, VT. There is no Freelove or Datius listed in Grafton, but there was a curious family headed by Theodore Church. This family consisted of one male age 15 to 20 and one female aged 40 to 50. This may well have been Datius and Freelove, but there is no further record that I have been able to find.
One can speculate that probably Nathaniel's first wife, Eunice, died sometime after 1810, and that he married Freelove and had another son, Datius, about 1813. He was living in Petersburgh near his sons John and Peter in 1820, but moved to Grafton before 1823. Some descendants of Peter Church have recorded some of the family history and traditions, but nowhere have I found a mention of Freelove or Datius.
The early records of this part of New York State are practically non-existent. Of the six members of the Church family who reputedly came from Stonington about 1780, I can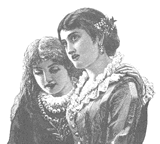 account for only one, Nathaniel, with any certainty. There was a John Church, probably the father, and his wife, probably Hannah. The son John may have come with the others and moved on to another place. The daughters Hannah and Elizabeth are not accounted for in any records. I have found one note of interest. The Dutch Reformed Church of Schaghticoke, in Rensselaer County, records the marriage of one Elizabeth Church to David Wager on 21 Nov 1786. No other information is given and there is no proof that this was "our" Elizabeth. It is interesting to note that there were many of the name of Wager who lived in Grafton.
The place of burial of these early Church settlers is also unknown. Transcriptions have been made of the grave markers in most of the early cemeteries, but none of them show John and Hannah, or the children John, Nathaniel, Elizabeth, or Hannah. Nathaniel's son John, John's wife Amy Hakes and some others are buried in the Rosenberg farm cemetery which is located near the foot of Church Hollow Road. This is near the area where John, Peter, and Peter's sons lived. When the inscriptions were recorded in 1935, it was noted that the farmer had made the cemetery a part of his barnyard and that it was in very poor condition. It was also noted that there were about 50 graves marked with uninscribed fieldstones. John and Hannah and the others may be buried in one of these unmarked graves.
The children of Nathaniel pose more unanswered questions.As previously noted, the fate of the second wife Freelove and son Datius is not known. Daughter Elizabeth is noted in Nathaniel's probate records as being Elizabeth Moon residing in Ohio. Nothing further is known about her. Son George (John George according to Nathaniel's will) was living in Pownal, VT in 1830 but does not appear on the 1840 census. Son John moved back to Petersburgh after 1830, and he and Peter both had large families.
Peter was born 27 Jul 1787 probably in the Petersburgh area, and died 9 Jun 1878. He married Rebecca Stewart 20 Aug 1805 and they had 11 children. John Church was born 15 Feb 1791. The place of his birth is not known, but it is interesting that there is some evidence that he may have been born in Rhode Island. When John's son Melvin died, the death certificate says that Melvin's father was born in Rhode Island. This information was provided by Melvin's daughter Violet who was a schoolteacher. Also in the 1880 census, another son, Nelson, indicated that his father was born in Rhode Island. Other children of John did not indicate that their father was born in Rhode Island. However, coupled with the fact that John or Nathaniel were not listed in the 1790 census, it is worth considering that the Church family may have gone back to New England for a period of time, or they may have gone back to spend the winter while they were building their homestead.
Another thing worth mentioning is the relationship between the families. It was previously noted that the Stewart family came to the area about 1780. Lemuel Stewart returned to Preston, Ct. and married Rebecca Rose in 1782. The marriage record notes that Lemuel was of Little Hoosick, NY. Rebecca was the daughter of Peter Rose Jr. and Sarah Gates. Sarah Gates was the sister of Amy Gates who married Jonathan Church previously mentioned as being listed in the census of 1790 as a resident of Stephentown. Jonathan transferred his interest in lands in Petersburgh to Isaac Gates who was his wife's brother. Isaac's brother Jacob Gates married Peggy Stewart, a sister of Lemuel. Also Jeremiah Rose, a nephew of Peter Rose, married Esther Gates. All of these people, except Peter Rose and Sarah, came to the Petersburgh area.
Not much is known about Nathaniel's first wife, Eunice. One source suggests that she was an Indian girl, but there is no evidence to support this. Given the tradition that the Stewarts and the Churches were cousins, and also the tradition that Lemuel and Nathaniel were close friends, I feel that there is a possibility that Nathaniel's wife was Eunice Rose, Rebecca's sister who was born in Preston, CT. 27 Sep 1764. As was mentioned, Eunice's sister was Peter Rose and Nathaniel named his first son Peter. This was the first time that the name Peter appears in the Church Family.
My purpose in putting together this rambling and sometimes confusing paper is to point out the things that I know and can document, together with some things that I suspect or consider possible in hope that some reader can give me information that will prove or disprove some of the points raised. It is also my hope that it may be of some aid in helping others to select areas that they might want to research.
Carlton M. Church, 2002
---
Family Historical References
Civil War Record, Excerpts from "Gazetteer of Towns,"
Will of Nathaniel Church, and 1800 Federal Census and
1855 NYS Census
Civil War Military Service
Page No. 1, Supervisor's District No. 5, Enumeration District No. 182, Petersburgh:
John W. Church (b. 25 Oct. 1834 - d. 29 Dec. 1911, Petersburgh Reynolds cemetery)
Page No. 2, Supervisor's District No. 5, Enumeration District No. 182, Petersburgh:
Noel R. Church (1839-1920, Petersburgh Meadowlawn/Pleasant Valley)
House No.
Family No.
Name
Rank
Co.
Regt. or Vessel
Date of Enlistment
Date of Discharge
Length of Service
Post Office Address
Disability Incurred
3_
_
Church, John W.
Private
G

2nd NY
Calvary

19 Sept. 1863
Unknown
?
Petersburgh
Broken collarbone
133
124
Church, Noel R.
Private
D
169 NY Inf.
23 Aug. 1862
19 Jul 1865
2y 10m 26d
Petersburgh
Rheumatism
"GAZETTEER OF TOWNS"
(property of Mrs. Wayne Jones)
The following information is referenced from "Gazetteer and Business Directory of Rensselaer County, N. Y., for
1870-71," compiled and published by Hamilton Child, 1870.

page 105:
About 1780, John, Nathaniel, Hannah and Elizabeth Church settled where Peter Church now lives. Peter Church was born in this town in 1787, is still living, and probably the oldest person in the town who was born there. He has raised a family of eleven children, all of whom are now living.
page 106:
The first grist mill was erected by George Rosenburgh, about 1770, on the creek below Peter Church's. The first school was kept by Hall; the first tavern by Cornelius Litcher, and the first store by Benjamin Hanks. A log grist mill was erected at South Petersburgh by John Spencer, previous to the Revolution, and a carding mill was erected by Barber & Murray in 1800. The first church was erected by the Lutherans, at North Petersburgh, about 1798.
pages 171-172:
Post office and farm acreage:
Church, Eliphalet A., North Petersburgh,...farmer, 94 acres
Church, Lemuel L., Petersburgh,...62-1/2 acres
Church, Nathan, Petersburgh,...farmer, leases of Peter Church
Church, Peter, North Petersburgh,...farmer, 120 acres
Church, Schuyler M., Petersburgh,...farmer, 120 acres
Church, Stephen, Petersburgh,...farmer leases
---

Will of Nathaniel Church


Nathaniel Church, b Stonington, CT 28 Oct 1759, died Grafton, Rensselaer
Co., NY 1823. His will, dated 10 Jan 1823 names wife, Freelove as
executrix. His heirs are named as sons Peter, John, John George, and
Datius "insigne", and daughter Elizabeth Moon.
The will was submitted for probate 1 May 1834 at which time the daughter Elizabeth Moon was residing in Ohio. It is probable that Peter, John, John George, and Elizabeth were children by Nathaniel's first wife, Eunice, and that Datius (Ed. Note: "Darius?") was by his second wife Freelove. The term "insigne" which appears after Datius name may mean "Significant One" meaning that he was a minor and that the will was not to be probated until he came of age.

- Thanks to Mary Celine Scott
Genealogy homepage: http://www.familytreemaker.com/users/s/c/o/MARY-C-SCOTT/


---
1800 Census
Town of Petersburgh

Information on this page is from Vol. 21, No. 4 of Tree Talks published by the Central New York Genealogical Society in December 1981.
The town of Petersburgh consists of the villages of Petersburgh and Petersburgh Four Corners.

Columns
A - Free white males under 10
B - Free white males 10-16
C - Free white males 16-26
D - Free white males 26-45
E - Free white males 45 and over
F - Free white females under 10
G - Free white females 10-16
H - Free white females 16-26
I - Free white females 26-45
J - Free white females 45 and over
K - All others
L - Slaves
Page 844

| | | | | | | | | | | | | |
| --- | --- | --- | --- | --- | --- | --- | --- | --- | --- | --- | --- | --- |
| Head of Household | A | B | C | D | E | F | G | H | I | J | K | L |
| Stewart, Joel | 2 | 0 | 1 | 0 | 0 | 1 | 0 | 1 | 0 | 0 | 0 | 0 |
Page 845

| | | | | | | | | | | | | |
| --- | --- | --- | --- | --- | --- | --- | --- | --- | --- | --- | --- | --- |
| Head of Household | A | B | C | D | E | F | G | H | I | J | K | L |
| Stewart, Phineas | 0 | 1 | 3 | 1 | 1 | 2 | 1 | 0 | 0 | 1 | 0 | 0 |
| Stewart, Etheal | 2 | 0 | 1 | 0 | 0 | 1 | 0 | 1 | 0 | 0 | 0 | 0 |
| Stewart, Torry | 0 | 0 | 1 | 0 | 0 | 1 | 0 | 1 | 0 | 0 | 0 | 0 |
Page 863

| | | | | | | | | | | | | |
| --- | --- | --- | --- | --- | --- | --- | --- | --- | --- | --- | --- | --- |
| Head of Household | A | B | C | D | E | F | G | H | I | J | K | L |
| Church, Nathaniel | 1 | 1 | 0 | 0 | 1 | 0 | 1 | 0 | 1 | 0 | 0 | 0 |
| Church, John | 0 | 0 | 0 | 0 | 1 | 0 | 0 | 0 | 0 | 1 | 0 | 0 |
Ed. Note: Nathaniel (b. 1759) was 41 yrs. old at the 1800 Census, and must be listed as "E", males 45 and over; his wife Eunice must be listed as "J", white female 45 and over; they had four children: Peter at 13 yrs. old (b.1787), listed under "A", male 10-16; Elizabeth listed under "G", female 10-16; either of other two sons George or John would be under "A", male under 10 yrs. old, the remaining son by Eunice either deceased or not yet born in 1800. It is unknown for certain whether the John Church listed is Nathaniel's brother John (b. 1757) or his father John (b. 1731), but we would assume that he is John Church the senior.
---
1855 Census
Town of Petersburgh
Abbreviations:
al - alien
nv - native
nz - naturalized
m - male
f - female
marr - married
ol - owns land
m/n - maiden name
cnrw - can not read & write

163 163 CHURCH Eliphalet A 40 m Rens marr 40 farmer nv ol frame $300
Patience A 38 f wife Rens marr 17
Schuyler M 16 m child Rens 16
Stephen N 13 m child Rens 13
Eunice A 11 f child Rens 11
Eliphalet 7 mo m child Rens 7 mo


212 213 CHURCH Stephen 41 m Rens marr 41 farmer nv ol frame $300
Polly 38 f wife Rens marr 38
Josiah 36 m brother Rens 36 farmer nv
Lemuel L 33 m brother Rens 33 farmer nv


238 239 CHURCH Nelson 31 m Rens marr 31 farmer nv ol frame $
Synthea 22 f wife Rens marr 22
George 2 m child Rens 2
Mary 3 mo f child Rens 3 mo
Melvin 15 m brother Rens 15
Emma 51 f mother Rens wid 51
John W 19 m brother Rens 19


295 302 CHURCH Peter 67 m Rens marr 67 farmer nv ol frame $400
Rebecca 65 f wife Rens marr 65
Nathan 30 m child Rens 30 farmer nv
Rebecca 26 f child Rens 26
Warren 24 m child Rens 24 farmer nv
Clark 17 m child Rens 17 farmer


1st Election District June 30th
296 303 CHURCH Steward 45 m Rens marr 45 farmer nv ol frame $50
CHURCH Deborah 42 f wife Rens marr 42
Deborah 16 f child Rens 16
Adaline 13 f child Rens 13
Arvilla 11 f child Rens 11
John 9 m child Rens 9
Adelia 8 f child Rens 8
Steward T 6 m child Rens 6
Lemuel 4 m child Rens 4
Top of page || Church Genealogy Main Page || Church Home Page || Settlement in Rensselaer County || The Journey || The Church/Stewart "Indian" || Genealogical and Historical Links || Table of Contents
"The Church Family of Petersburgh, NY featuring descendants of Frank and Myrtle Church" website
at http://churchtree.tripod.com
©2002 by Daniel J. Bornt, e-mail to: vanatalan@yahoo.com