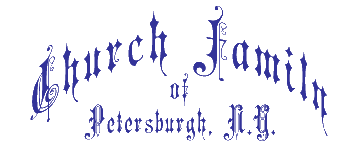 IMPORTANT NOTICE TO OUR VISITORS! Our web site host, Tripod, has recently begun opening pop-up ads with every page you visit. We regret the annoyance this action has caused and have protested vigorously to Tripod. We remind you to close out these windows immediately so they don't overwhelm your browser.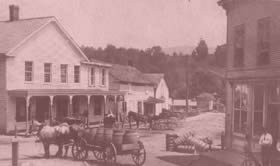 Petersburgh, looking down Main St. - circa 1900

Click on Main St. to visit the Churches in Petersburgh
We hope you will enjoy your visit to yesteryear at the Church Family website, a collection of historical accounts, vintage photographs, genealogical records, and anecdotes of life in rural Rensselaer County, NY from the 18th to the mid-20th centuries.
Site last updated February 11, 2006
(No-script) Front page for Netscape 4.0
"Church Family of Petersburgh, NY, featuring descendants of Frank & Myrtle Church" website, online since Oct. 12, 2001
© copyright 2004 by Daniel J. Bornt
Credits: Site design and layout by DJB
"Flowers" illustration by unknown artist for illustration of poem "Flowers," The Complete Poetical Works of Henry Wadsworth Longfellow, 1884 edition, personal collection of DJB
Vintage Postcard: "Street Scene, Petersburg, N.Y." postmarked Oct. 30, 1900, personal collection of DJB
Buttons compliments of Bull's Backgrounds, Buttons, and Bars at www.cbull.com
Counter compliments of Web Counter at www.digits.com
In 1780 John and Hannah Church and their four children made the arduous overland trek from Stonington, Connecticut to a new home in the Van Rensselaer manorial lands nestled in the Taconic Mountains of eastern New York State. Now 225 years later, their descendants still call the region around the Little Hoosic Valley village of Petersburgh "home."