Scenes of Petersburgh, NY circa 1900

We hope you will enjoy your visit to yesteryear at the Church Family website, a collection of historical
accounts, vintage photographs, genealogical records, and anecdotes of life in rural Rensselaer
County, NY from the 18th to the mid-20th centuries. Online since October 12, 2001.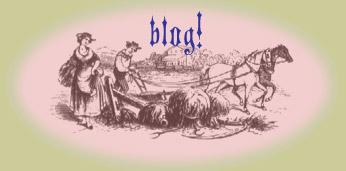 Click on farm scene to visit the new Church Family Blog!
Genealogy || Bulletin Board || Table of Contents || Church History in New England ||
Church History in Petersburgh || Frank & Myrtle's Page || Cemetery Records ||
Index Page for Netscape 4.0 || Church Family Blog || E-mail us
Credits:

"Church Family of Petersburgh, NY, featuring descendants
of Frank & Myrtle Church" website © copyright 2004 by Daniel J. Bornt
Credits: Site design and layout by DJB;
"Flowers" illustration by unknown artist for illustration of poem "Flowers,"
The Complete Poetical Works of Henry Wadsworth Longfellow, 1884 edition, personal collection of DJB;
Vintage Postcard: "Street Scene, Petersburg, N.Y." (above left) postmarked Oct. 30, 1900, personal collection of DJB;
Drop down menu code (modified) courtesy of SmartWebby.com at www.smartwebby.com
Buttons compliments of Bull's Backgrounds, Buttons, and Bars at www.cbull.com
Counter compliments of Web Counter at www.digits.com
Powered by johnnycake web crafters...

for your web design solutions...
visits