Biographies of Dr. Benjamin Church
Church
(Dictionary of American Biography (Scribner's))
p. 100-101

CHURCH, BENJAMIN (Aug. 24, 1734-1776), physician, traitor, poet, and author, was a grandson of Col. Benjamin Church [q.v.], who was conspicuous in the Indian and French Wars, and a son of Benjamin, deacon of Mather Byles's church (Boston). He was born at Newport. R. I. entered the Boston Latin School in 1745, and graduated from Harvard College in 1754. Soon after graduation he wrote two poems which appeared in a collection in celebration of the accession of George III. He studied medicine with Dr. Joseph Pynchon, later going to London where he married Hannah Hill of Ross, Herefordshire. About 1768 he built a fine house at Raynham, Mass., which some think threw him into debt. Seemingly his pen supported the Whig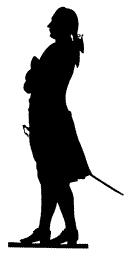 cause vigorously, but it is said that he parodied the patriotic songs in favor of the British and that his political essays were answered from the Tory side by his own pen. The Times... "by an American" (Boston, 1765), a satire upon the Stamp Act, has been attributed to him. He examined the body of Crispus Attucks, killed in the Boston Massacre, 1770, and his deposition was printed in the narrative of the town (James Spear Loring, The Hundred Boston Orators... 4th ed., Boston, 1855, p. 37). He is said to have written for the Loyalist paper, The Censor, but on Oct. 28,1772, being a member with Adams and Warren of a committee of correspondence, he was appointed to draft a letter to the other towns about the colony's rights (Justin Winsor, editor, Memorial History of Boston, 1881, III, 44). On Mar. 5, 1773, he delivered An Oration . . . to Commemorate the Bloody Tragedy of the Fifth of March, 1770, which ranks high amongst these utterances. In 1774, after a caucus of Whigs, sworn to secrecy, it was learned, according to Paul Revere, that the proceedings had been divulged to the Tories, and Revere did not doubt that Church had supplied the information to Hutchinson (see letter in Massachusetts Historical Society Collections, ser. I, vol. V, pp. 106— 12). Church, nevertheless, continued in the confidence of the Whigs, for, with Dr. Joseph Warren and others, he was appointed a delegate in 1774 to the Provincial Congress. According to Samuel Kettel, soon after the battle of Lexington, Church told his confreres that he must go into Boston, to see about medicines. On his return, he said he had been made prisoner and taken before Gen. Gage, but it was learned later that he had paid Gage a voluntary visit. In May 1775, on the other hand, he went to consult the Continental Congress, Philadelphia, about the defense of the colony. He was unanimously elected director and chief physician of the first Army Hospital (at Cambridge), July 25, 1775, at a salary of four dollars a day, but his management of its affairs seems to have been not altogether successful, finally causing an inquiry to be held into his conduct. It must be admitted, however, that he had rivals seeking his position (see Church's letter to Gen. Sullivan, American Archives, ser. IV, vol. III, p. 712). He evidently wrote Washington, Sept. 20, seeking permission to leave the army (American Archives, ser. IV vol. III, p. 780).

Church was tried by court martial, Oct. 1775, Washington presiding, and was found guilty of "holding criminal correspondence with the enemy." In July 1775, he had sent a cipher letter to the commander of a British vessel Newport. The correspondence had been intercepted, Henry Ward taking it to Washington the end of September. The Massachusetts Provincial Congress unanimously expelled Church from their body on Nov. 4. He defended himself ably but was not convincing. He admitted that he wrote the letter, but said he was not acting traitorously as he purposely had exaggerated numbers of the Continental Army in order frighten the British and quickly end hostilities. The Continental Congress resolved on Nov. 6 that he should be imprisoned at Norwich, Conn. but, because of illness, he was removed to Massachusetts and put on parole not to leave the colony (Richard Frothingham, History of the Siege of Boston, 3rd ed., 1872, pp. 259-60). Eventually allowed by the Massachusetts Council to depart for the West Indies, he sailed from Boston probably in 1778, but the ship was never heard from again. Church's family was pensioned by the crown.
[Richard Frothingham, Life and Times of Jos. Warren (1865), p. 225 n.; New Eng. Hist. and Geneal. Reg. Apr. 1857, p. 123; Wm. O. Owen, The Medical Department of the U.S. Army,...1176-1186 (1920); Lorenzo Sabine, Biographical Sketches of Loyalists of the Am. Revolution (1864), I, 313; J.M. Toner, The Medical Men of the Revolution...(1876); Justin Winsor, Narr. and Crit. Hist. of America (1888), vol. VI; Church's original cipher letter, as well as the letter as deciphered, in the Lib. of Cong., Washington.]
---
ENCYCLOPEDIA OF BIOGRAPHY
(p. 250-251)
CHURCH, Benjamin,
Revolutionary War Surgeon.
Benjamin Church, surgeon-general in the War of the Revolution, left behind him the reputation of being a traitor to his country. There is no record of the date of his birth or any account of his early life.

He entered Harvard College, where he was graduated in 1754, and having studied with Dr. Charles Pynchon, an eminent physician of the time, became noted for his skill, particularly as a surgeon. In addition, as he was talented and had a poetic fancy, he obtained a certain reputation as a writer. About the year 1768 he built for himself an elegant house at Raynham, Massachusetts, which involved him in debt, and probably led to the misfortunes and disgrace of his after life. Prior to the War of the Revolution, Dr. Church was a zealous Whig, and associated with the principal men of that party in Boston and was a writer for "The Times;" a newspaper which was devoted to the Whigs, and which Governor Bernard denounced as a seditious sheet. It appears from a letter of Governor Hutchinson, dated January 29, 1772, that even at that time he was traitorously in the service of the government—traitorously, because, not being suspected by the patriots, he was looked upon as one of them, and in was chosen to.deliver the annual oration in the Old South Meeting House. He was also one of the leaders in the "Boston Tea Party." In 1774 he was a member of the Provincial Congress, and was appointed Surgeon-General and Director of Hospitals, but at this time it began to be suspected that he was in the pay of the British government. One of his students who kept his accounts and knew of his pecuniary condition. could not otherwise account for his sudden acquisition of some hundreds of new British guineas. It appears that he had frequent intercourse with Captain Price, a half-pay British officer, and with Robinson, one of the commissioners sent over from England to try to arrange peace. A few days after the battle of Lexington, in April, 1775, being at Cambridge, with the Committee of Safety he brought himself under specific suspicion by suddenly returning to Boston and visiting the house of General Gage. His treachery was detected through a letter written in cipher to his brother in Boston, which he had entrusted to a young woman upon whom it was found. The cipher being translated by Elbridge Gerry, it was discovered that Church had been for some time in treasonable correspondence with the enemy. He brought to trial before a court and was convicted, October 3d (Washington being president of the court), holding a criminal correspondence with the enemy." On General Washington charging him with his baseness, Church did not even attempt to vindicate himself, but, on being called to the bar of the House of Representatives, October 27, he offered a defense which was considered ingenious and able. He said that the letter for his brother not having sent, he had communicated no intelligence; that, there was nothing in the letter but notorious facts; that his exaggeration of the strength of the American force was only designed to favor the cause of his country, and that his object was purely patriotic. He concluded saying: "The warmest bosom here does not flame with a brighter zeal for the security, happiness and liberties of America, than mine." He gained nothing by his eloquence, being expelled from the house, and ordered to be imprisoned for life, and debarred the use of pens, ink, and paper. He fell sick in prison, however, and in 1776 was released and permitted to sail for the West Indies , but the ship in which he sailed was never heard from again. Dr. Church published "An Elegy on the Times" (1765); "Elegy on Dr. Mayhew" (1766); "Elegy on the Death of Dr. Whitefield" (1770); "Oration on the Fifth of March" (1773).
Links:
Surgeon Generals of the US Army: (painting of Dr. Church)
http://history.amedd.army.mil/tsgs/Church.htm
Rebel Biographies
http://members.aol.com/tjoschultz/church.html